Something a little different with your pork belly – try this dish full of asian flavours.
This recipe is great as it uses pork belly slices, which are often cheaper than a whole pork belly for the same weight. If you've got a whole pork belly, cut it up as per the size below.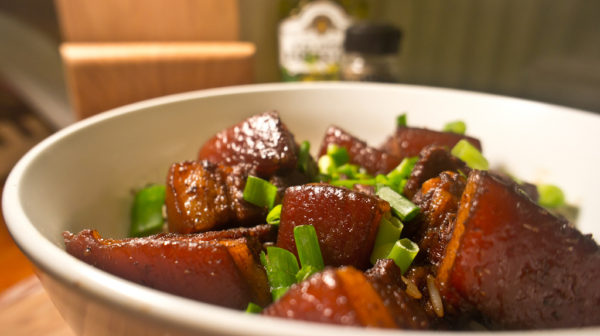 | | |
| --- | --- |
| | |
Add all the slow cooked pork belly ingredients to a pan (not the glaze ingredients)

Bring to the boil, then place a lid on, turn down the heat and simmer for 2 hours.

Turn off the heat and drain the pork. .

Chop the pork into bite sized chunks. Add 1 tbsp. of oil in a frying pan, and then mix the remaining glaze ingredients in a small bowl.

Heat the oil and add in the pork, salt and pepper, frying on a high heat until the pork starts to turn golden. Now pour the glaze over the pork and continue to cook until the pork looks dark and sticky.

Remove from the heat and serve with some rice and your choice of green vegetables.