Self saucing chocolate pudding is the perfect dessert in a hurry. If you've just cooked a wonderful dinner, but have found yourself light on dessert, this self saucing pudding recipe takes just ten minutes to prepare, so you can get back to your guests and enjoy the wonderful smell of chocolatey goodness baking away in the oven. Be sure to whip some cream to go with it, or add a scoop of ice cream melt on top!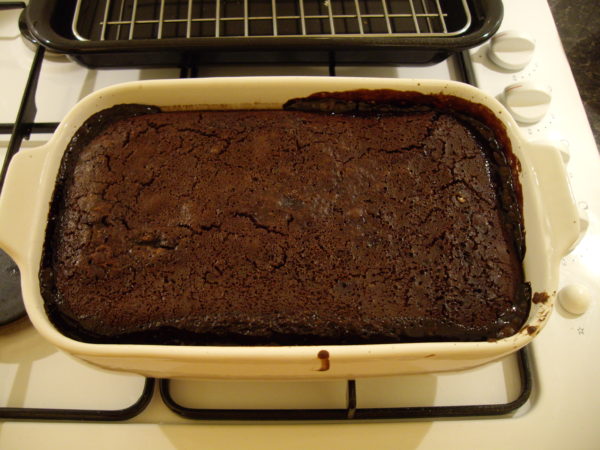 | | |
| --- | --- |
| | |
Preheat the oven to normal bake at 180°C.

Melt your butter and mix in the sugar and cocoa powder (from the mixture, not self sauce section)

Add your flour, baking powder and salt. Mix these in until combined, but there is no need to over mix here.

Add your milk and vanilla essence and mix it in.

Put your mixture into a dish. Make sure that the dish is deep enough, as the self saucing will boil up. A dish of around 20-25cm is a good size, but make sure the mixture at this point only comes up to around a quarter of the dishes height.

With the brown and white sugar and cocoa powder for the sauce, put it on top of your mixture.

When you are ready to put it in the oven, pour your boiling water on top of the mixture. Pouring onto a spoon will help to spread the water without making holes in the mixture below.

Bake for 40 minutes at 180°C. You'll know when it's ready, trust me!
Serve this pudding hot, with whipped cream or ice cream. It will really compliment the chocolate sauce and the warm/cold mix is a dessert delight!