Something a little different – classic indian spices in this totally vegetarian curry.
Suitable for vegans and those with gluten intolerances too.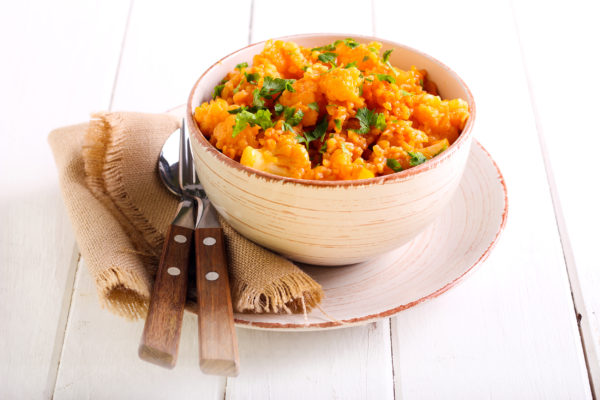 | | |
| --- | --- |
| | |
In a large saucepan over low heat, combine lentils, onions, curry powder, salt, turmeric, and 2 cups water; bring to a simmer.

Cover and cook, stirring occasionally, until the lentils are soft and the sauce has thickened, approximately 20 minutes.

Add tomatoes, cauliflower, and jalapeno peppers and simmer, covered, until the cauliflower is tender, 8 to 10 minutes longer. Remove from heat.

Heat oil in a small fry pan over medium-high heat. Add cumin seeds and cook for about 10 seconds. Add garlic and ginger; sauté until the garlic is lightly browned, about 1 minute. Stir in cayenne and immediately add the oil-spice mixture to the cauliflower mixture. Stir in lemon juice and coriander. Taste and adjust seasonings with additional salt and cayenne, garnish with fresh coriander leaves.

Serve either on its own or with a little cooked rice or quinoa.