Tender, succulent slow cooked pork belly topped with a spicy chilli peanut relish. Now I know pork belly isn't a) particularly healthy or b) particularly cheap – but for a special meal it's an absolute treat.
Meltingly tender pork retains its flavour and succulence when slow cooked for 7-8 hours at a low temperature and then is quickly roasted at a high temperature to get all that delicious crackling crisp.
The relish is fresh, light and spicy and proves to be the perfect contrast to the rich pork. Recipe only slightly modified from the talented chef Valli Little who never ceases to provide imaginative interesting recipes.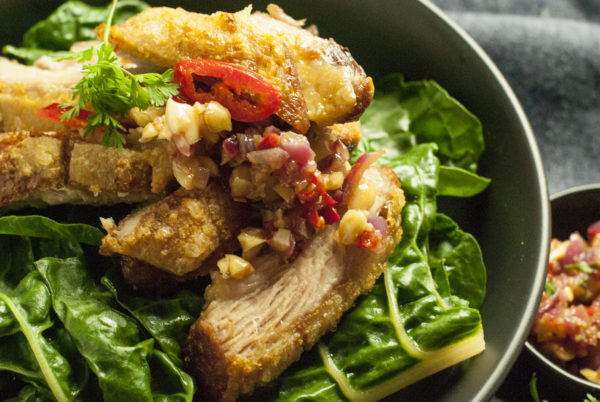 | | |
| --- | --- |
| | |
Preheat your oven to 100°C/200°F. Score the pork fat in a criss-cross pattern ensuring you don't cut into the meat.

Place the pork on a rack in the sink and pour over a kettle of boiling water to help create a crispy crackling later on. Rub the oil into the skin and sprinkle on the salt and rub this in also.

Place, skin side up, on the rack over an oven pan and pour 200 ml water into the pan. Roast for 7-8 hours at this low temperature, topping up the water after a few hours. The meat will be very tender at this stage.

Now, turn up the heat to 220°C/440°F and cook for 15-20 minutes or until the crackling has become crisp.
For the relish, heat the peanut oil in a small pan and cook the garlic and chilli for 1-2 minutes. Stir in the shallot or onion and sugar and stir for another 2-3 minutes. Add the peanuts and ground coriander and cook another minute or so.

Transfer the mixture to a mortar and pestle and pound to a coarse paste. If you don't have a mortar and pestle you can simply run a sharp knife over the relish to cut a bit finer. You don't want it chopped too finely as its lovely to see the pieces of peanut, chilli and onion.

Stir in the lemon juice, soy sauce, sesame oil and chopped coriander.

Slice the pork belly, pop a little relish on the top and a sprig or two of coriander and serve on some steamed greens.