The thing I love to cook the most on my charcoal BBQ is pork belly – and this is the recipe I use as it works every time.
Where better to go then the home of BBQ – the USA!! A video of the whole process is here below, as well as a transcription of the recipe.
This recipe uses a spice rub – use your favourite, or a nice one bought from the store. If you're interested in buying the exact rubs used in the video above, check out the recipe on their website and their shop.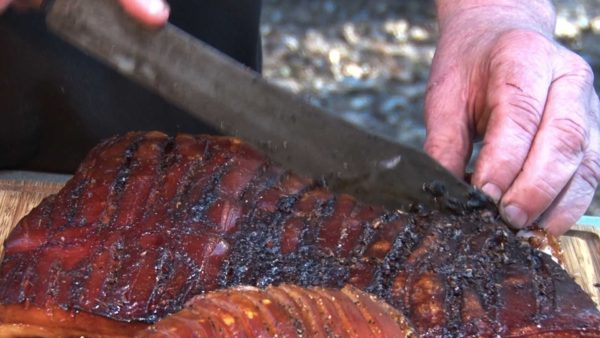 | | |
| --- | --- |
| | |
Start by roughly chopping the vegetables - the quantities above are a guide, as you want enough to cover the bottom of a large roasting dish.

Take your favourite BBQ rub, and apply liberally to the bottom (not skin) side of the pork belly, massaging it so it really penetrates the meat. A rub with a good amount of salt works well.

Flip the pork belly over, and score the skin about 5cm apart with a large knife.

After scoring, add the rub to the skin of the pork belly and rub in with the olive oil (use as much as needed).

Sprinkle the brown sugar over the vegetables, and lay the pork belly on top of the vegetables. The veges are there to add flavour and also keep the pork belly off the bottom of the pan.

Pour the apple cider (or apply juice if you prefer) into the bottom of the pan.

Once your charcoal BBQ is really hot, add the pork belly and leave it for about 25 minutes, to create the crackling and seal the meat.

After 25 minutes, reduce the heat of the grill to around 150C, and leave it to cook for around 3 and a half hours. You may need to replenish the coals to keep the temp at 150C.

The pork belly is done when the internal temperature gets to 74C - let it rest for around half an hour before slicing and serving. If you like, the vegetables and pan juice can be made into a tasty gravy!